The requested page is not available for selected version.
Quick Start tab
The Quick Start tab, which appears when you open TestArchitect Client, and remains available until you close it, offers quick access to some of the most common features of the client, along with helpful information.

Among other things, Quick Start lets you conveniently connect to a repository, create a new project, record actions, and open step-by-step tutorials.

Note:

The Quick Start tab appears, by default, every time TestArchitect is launched. The option to suppress or permit this appearance may be set in the Preferences dialog box. (Learn more.)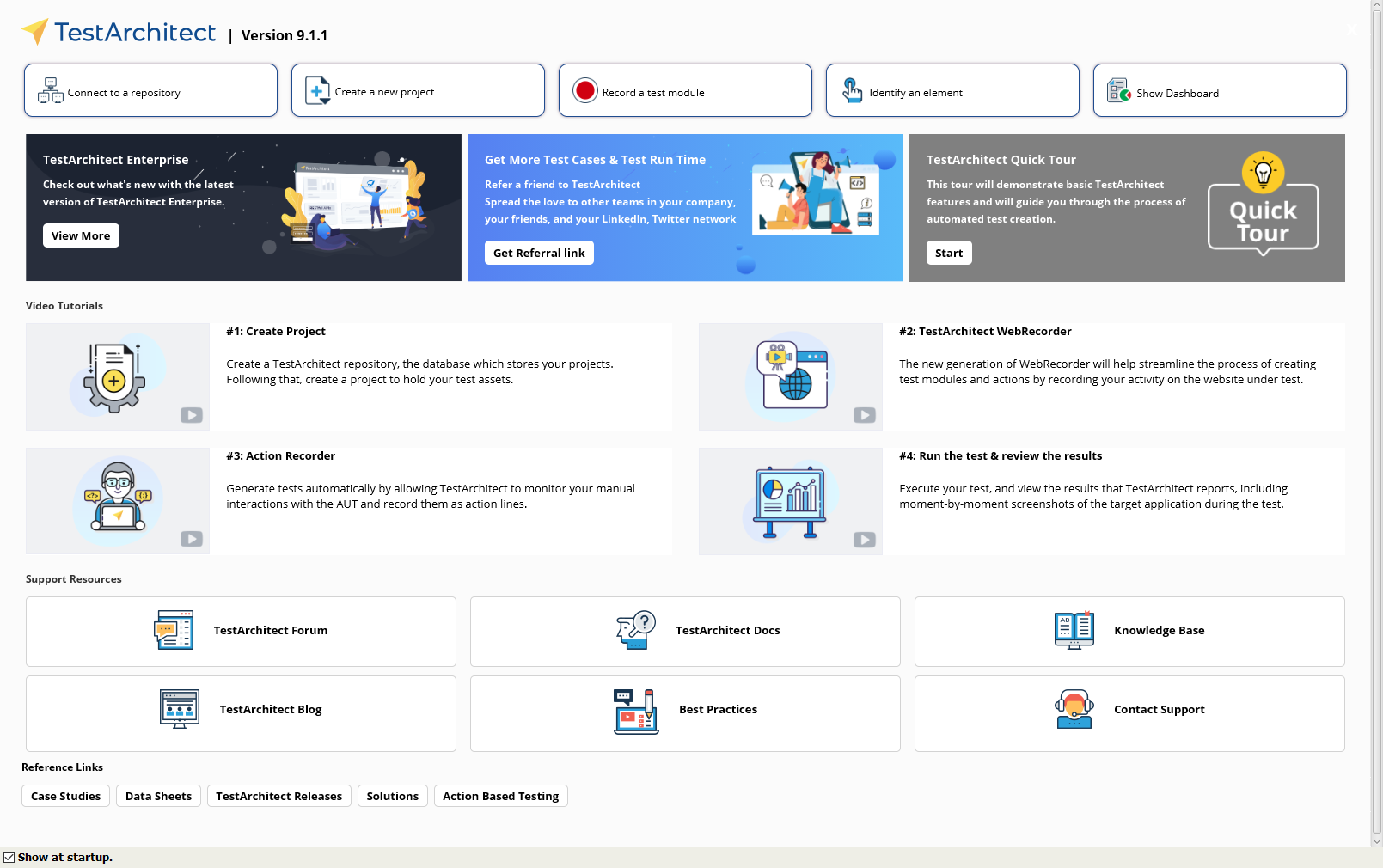 This tab consists of four separate sections:
Basic functions: Primarily intended to allow new users to become acquainted with TestArchitect's most essential tools.

Quick Tour: A high-level workflow to guide new users on steps to create automation tests. Click here for more information.

Video Tutorials: The easiest way to experience Test Architect is to follow our Tutorial channel.

Support Resources:

TestArchitect Forum

Get technical support and participate in product feature requests. You can also share your experiences with TestArchitect and learn from others.

TestArchitect Online Help

TestArchitect Docs is available in both desktop and web-based versions. You can use them to find the information you need

Knowledge Base

Provide troubleshooting and how-to tips on TestArchitect, and also link other resources like case studies and technical articles to become a better user.

TestArchitect Blog

Read a wide variety of test automation topics. The available blogs provide product updates and tips that help unleash your team's potential.

Best Practices

Read and apply the best practices in administering and testing with TestArchitect to optimize performance, efficiency and quality in your projects.

Contact Support

If you have questions, problems with TestArchitect, you can contact our Support Team. Our Support Team is dedicated to providing you with high-level technical support.

Reference Links: All the relevant links you need when using or deciding whether to use TestArchitect.