The requested page is not available for selected version.
Creating registered TA bugs with JIRA Bug Tracker
A registered bug is a TestArchitect bug (TA bug) associated with a JIRA bug issue.
Ensure that the following requirements are met:
Your TestArchitect test machine has registered the JIRA server.
A JIRA issue to be associated with a TA bug has already been created, and is of type Bug.
Notes:
At present, TestArchitect-JIRA integration supports versions 5 and 6 of JIRA.
To create a registered TA bug, complete the following steps:
Right-click the Bugs node in the TestArchitect explorer tree, then click New Bug.

Fastpath: Ctrl + N

In the New Bug dialog box, click the Import button.

The Import Bug dialog box appears with the default user name and password configured in Registering JIRA server.

Tip:

At your option, you may override the default user name and password with your own credentials for an existing account on the JIRA server.

In the Bug ID text box, specify the bug ID of a JIRA bug you would like to associate this TA bug with.



Click OK.

The password is verified after you click OK.

The values obtained from the JIRA bug are loaded into the corresponding Summary, Description, Source and Status fields in the New Bug dialog box.



Notes:

Generally, a registered TA bug loads values from four JIRA built-in fields: Key, Summary, Status, and Description. However, you can have TestArchitect load additional JIRA fields, such as Priority or Fix Version(s), by creating associated TestArchitect user-defined fields. See Adding a custom field in TestArchitect for further information.
If the JIRA bug's status is different from Open, Closed or Reopened, the status of the registered TestArchitect bug is always set to Open. Refer to TestArchitect bugs for possible statuses, or stages, of a TestArchitect bug.
Making changes to the Summary or Description field in the New Bug dialog box is possible.

Click the Create button.

Restriction:

If you attempt to associate a TA bug with a JIRA issue that is not of the type Bug, an error message is presented:



Each JIRA bug ID can only be mapped to a single TestArchitect bug. If you attempt to import a JIRA bug that is already linked to a registered TA bug, the following message is displayed:


A registered bug is created and appears in the main panel. The fields of the Information tab below are explained in TA bug information.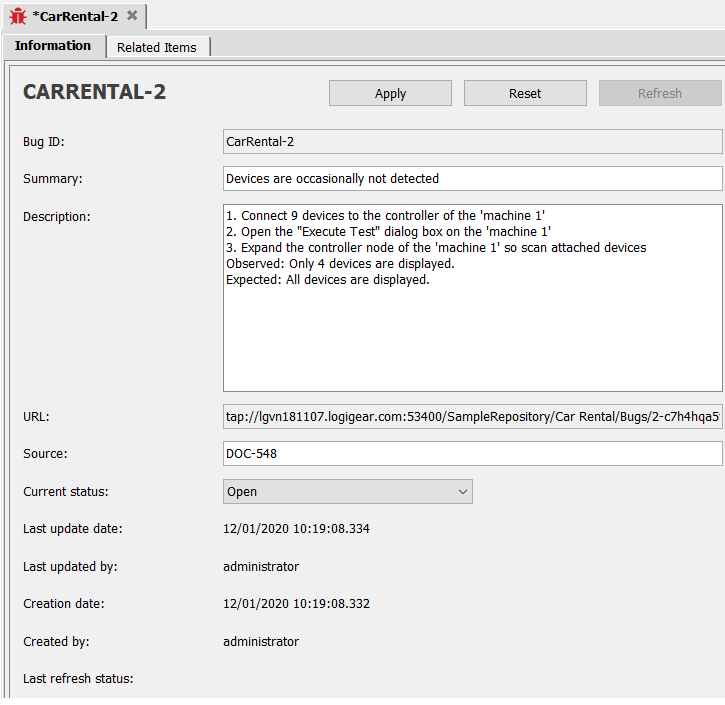 Notes:
The TestArchitect Bug ID field is a combination of a prefix key followed by an ID number, separated by a hyphen.
The ID number is automatically generated to avoid duplicate bugs in case of replication repositories.