The requested page is not available for selected version.
delete file
Delete a file.
file

Full path of target file.

force

(Optional) Force the file to be deleted (see note).

Allowable values:

true

(Default) Force deletion, if necessary.

false

Do not attempt to force deletion.
This action may be used within the following project items: test modules and user-defined actions.
Observe the following format for the file path:

Windows platform: Use backward slashes as separators for the path.
Linux and Android platforms: Use forward slashes as separators for the path. (Note that network paths are not supported.)

Note that this built-in action is not currently supported on the macOS or iOS platforms.
Forced deletion is only successful under certain circumstances in which the program would otherwise have insufficient permission for deletion (e.g., a read-only file). However, delete file does not force deletion of a file that has been locked by another process.
A warning is issued if the file specified in file is not found to exist.
This action supports the <ignore> modifier. If the string <ignore> is present as the value of any of the arguments, or any argument contains an expression that evaluates to <ignore>, the action is skipped during execution.
The following settings are applicable to this action: remove double quotes from cells.
Action Lines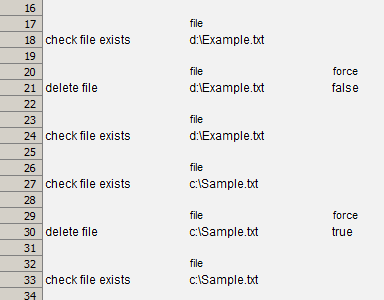 Result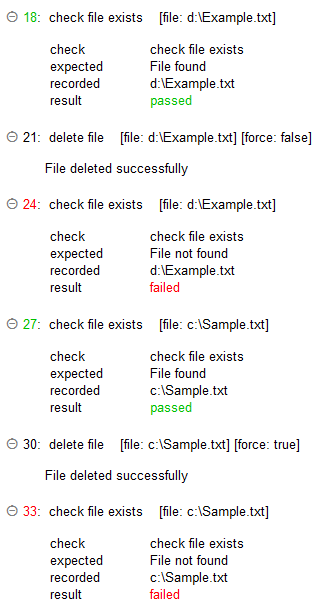 Related information